Boulder Friends of Jazz
•
July 2nd - Doug Howe, Trombone, Guitar, Vocals
•
August 6th - Lance Christensen - Trumpet, Banjo
•
September 3rd - John Bredenberg, Clarinet, Tenor Sax, Banjo
VERN BAUMER
Clarinet and Vocals
A highly talented musician who needs no introduction, Vern was part of the birth
of the BFJ. He has made several CDs with his band, The New Orleans Jazz
Gathering. Favorite song: Jimmie Noone's "Apex Blues".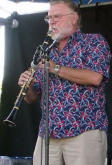 DEREK LUCAS
Trumpet
A former New Zealander, Derek brought his horn and love of Dixieland style with
him. A founding BFJ member, his signature tune, "Sugar Blues," can be heard
every time he takes the stand. He can often be heard leading the Prohibition Six.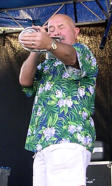 DOUG HOWE
Trombone, Guitar and Vocals
Doug gets around. He's played with The Prohibition Six, Your Father's Mustache
and Dixieland Express. A teacher of elementary music in Jeffco Schools, to hear
him singing Rudy Valee-style through a Harmon mute is just fun.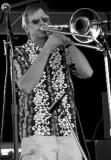 JOHN BREDENBERG
Clarinet, Tenor and Soprano Sax, Banjo, Ukelele
A member of the Queen City Jazz Band and a long- standing member of BFJ, John
has been a jam leader many times in the past. He has played with the Prohibition
Six, Your Father's Mustache, Hot Tomatoes, and Alan Frederickson's Jazz
Ensemble.

KRISTIN ANDERSON-BOHAN
Drums
A Boulder native and graduate of the University of Colorado, Kristin leads the
Crystal Swing Band and the Vibe Tribe. She is also a member of Swing, Inc. and
freelances with numerous bands in the metro area. Kristin is currently the
Events Coordinator for Naropa University.

LANCE CHRISTENSEN
Trumpet, Banjo, Sax, Clarinet and Vocals
Lance is the leader of the 101st Army Dixieland Band of the Colorado Army
National Guard. He has performed with the Queen City Jazz Band, Your Father's
Mustache, Ted Shafer's Jelly Roll Jazz Band, The Jazz Cookers and others.